Zoos and Field Conservationists Call for Worldwide Action to Stop Illegal Killing of Wildlife ~ ZACC Conference 2013
More than 200 conservationists representing over 40 zoos as well as wildlife programs in 36 countries have called on governments around the world to immediately increase the resources needed to combat the alarming rise in the illegal wildlife trade.  Meeting in Des Moines, Iowa, earlier this month, zoo officials, scientists, and wildlife experts with the 9th Zoos and Aquariums Committing to Conservation Conference (ZACC) agreed that urgent action is needed to combat the well-organized and heavily armed criminals who are draining the world's ecosystems of wildlife and threatening human populations.
On the heels of the U.S. government's recent announcement of $10 million to assist African countries with anti-poaching efforts to protect elephants, rhinos and other wildlife, the ZACC delegates urged all governments and international groups to launch sustained campaigns to stop the illegal killing of wildlife, including increased law enforcement with prompt and serious punishments for wildlife crime, more cooperation between governments to combat cross-border activity, and campaigns to raise awareness among consumers about the illegal wildlife trade.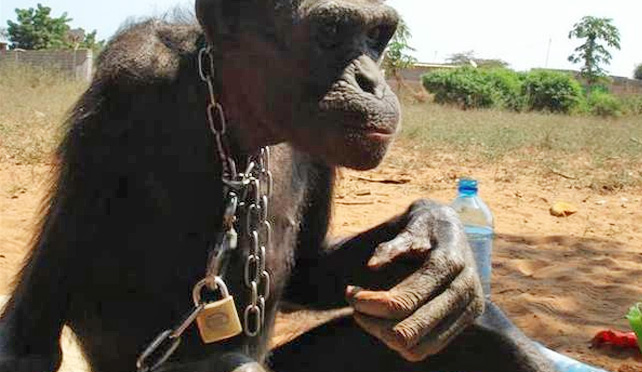 ZACC delegates also noted that the wildlife trade was devastating imperiled species on several continents including the world's most iconic species such as big cats and great apes, sharks and rays, countless birds, turtles and other reptiles, and lesser-known animals, such as pangolins and slow lorises.  The trade is feeding demand for illegal traditional medicine, exotic pets, bushmeat, and other wildlife products such as ivory.  In parts of the world, poaching and overexploitation have created the "empty forests" phenomenon where even small species such as bats, birds, and rodents have been wiped out.
The illegal wildlife trade is not a subsistence activity, but rather an industry based on organized crime worth multi billions of dollars annually.  In addition to decimating animal populations worldwide and robbing current and future generations of their irreplaceable natural heritage, the illegal wildlife trade has been linked to organized criminal activities such as the illicit drug trade, weapons proliferation, and human trafficking.   In many parts of the world, the illegal wildlife trade is generating money that funds terrorism.
QUOTES FROM ZACC DELEGATES 
Dr. Anna Nekaris, professor of primate conservation at Oxford Brookes University and founder and director of the Little Fireface Project based in Indonesia stated, "The number of animals for sale in markets out scales their ability to reproduce.  The illegal trade is a tragic waste of animal life and meets no human needs, and in fact undermines the future well-being of humankind."
Julie Sherman, executive director of the Pan African Sanctuary Alliance, remarked, "The trade in African primates sold as pets, tourist attractions or bushmeat is decimating wild populations. This illegal trade threatens the survival of our closest relatives, chimpanzees, gorillas and bonobos.  Experts estimate 5-15 apes are killed by hunters for each one that is sold."
Dr. Marc Ancrenaz of the NGO Hutan and the Kinabatangan Orangutan Conservation Program based in Malaysia commented that, "We are on the verge of losing the last representatives of the world's iconic species such as rhinos, tigers and elephants.  These animals have shared the planet with us since the dawn of humankind, and they are in danger of going extinct in the next 50 years.  Stronger enforcement of existing laws and increased efforts on the ground are urgently needed to halt this tragedy."
From John Lukas, president of the Okapi Conservation Project, Epulu, Democratic Republic of Congo, "The worldwide demand for elephant ivory has destabilized entire regions of D.R. Congo.  The sale of illegal ivory funds armed militias that terrorize human and wildlife communities alike in pursuit of power and wealth."
William Robichaud, coordinator of the Saola Working Group of the IUCN SSC Asian Wild Cattle Specialist Group said, "Wildlife trade is the greatest immediate threat to wildlife in Asia today.  Many threatened non-target species such as the saola, are caught up in the slaughter as by-catch.  It is a quite catastrophe."
Quyen Vu, founder and director of Education for Nature Vietnam (ENV) stated, "The illegal wildlife trade has become a critical threat to global biodiversity.  The demand for wildlife in the form of exotic pets, traditional medicine, and bushmeat is supported by a vast criminal network stretching around the globe linking poachers and consumers.  It is time to unite globally to take urgent action before the magnificent diversity of the planet is lost along with its roots that are embedded within human cultures."
BULLET POINTS
·    Rhino poaching, especially in southern Africa, is continuing to devastate populations.  The International Rhino Foundation estimates that at least one rhino has been lost every 7 hours in South Africa this year so far.
·    The last Vietnamese rhino was killed by poachers in 2009 and the western black rhino was declared extinct in 2011 largely due to the wildlife trade, sending two distinct subspecies to extinction.
·    As many as 30,000 elephants are slaughtered by poachers annually for their ivory.
·    Forest elephants have declined by 62 percent in the past ten years due to poaching.
·    Tiger populations have declined by 95 percent over the past 100 years.  Only 3,200 tigers remain with an estimated 1,000 females.
·    Ninety-seven million sharks were cruelly captured and killed for their fins in 2010.
·    40,000-60,000 pangolins were killed in 2011 in Vietnam alone. Several Asian species have recently been classified as Endangered.
·    Big cats, such as lions and leopards, are now being killed to replace tiger parts used in traditional Chinese medicine
For more information, contact:
Rebecca J. Rose
Field Conservation Manager
Columbus Zoo and Aquarium
614-724-3409
Rebecca.Rose@columbuszoo.org
Remembering Dr. Dian Fossey, an Inspiration and Passionate Gorilla Advocate
Dian Fossey was born on January 16, 1932, in San Francisco, California. Trained as an occupational therapist, Fossey became interested in primates during a trip to Africa in 1963. She studied the gorillas of the Rwandan mountain forest for two decades before her unsolved murder occurred in 1985.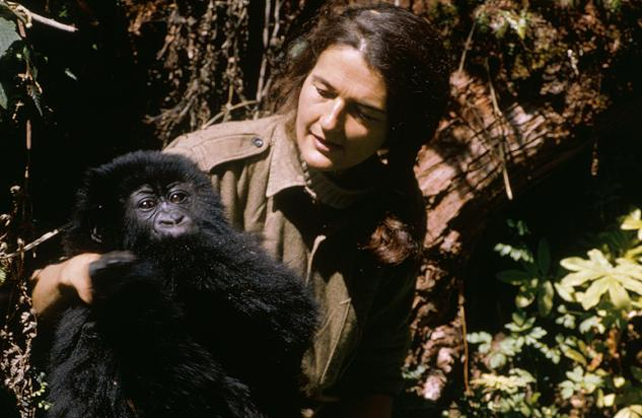 Fossey told her story in the book Gorillas in the Mist, later made into a film starring Sigourney Weaver. Fossey died on December 26, 1985,at Volcanoes National Park in Rwanda.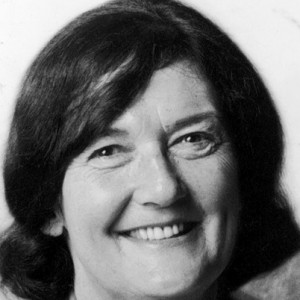 Early Life
Primatologist and naturalist Dian Fossey was born on January 16, 1932, in San Francisco, California. Fossey enriched our understanding of gorillas through her intense study of these animals from the 1960s to 1980s. She was interested in animals from childhood, but changed college courses from pre-veterinary studies to occupational therapy.
Fossey moved to Louisville, Kentucky, to be director of the Kosair Crippled Children's Hospital occupational therapy department in 1955. But she soon became restless and dreamed of traveling to Africa. On her first trip to Africa in 1963, Fossey met palaeontologists Mary and Louis Leakey, who encouraged her dream to live and work with mountain gorillas.
'Gorillas in the Mist'
In 1966, Dian Fossey caught up with Louis Leakey at a lecture in Louisville, and he invited her to study the mountain gorillas in Africa. She accepted his offer and lived among the mountain gorillas in the Democratic Republic of Congo until civil war forced her to escape to Rwanda.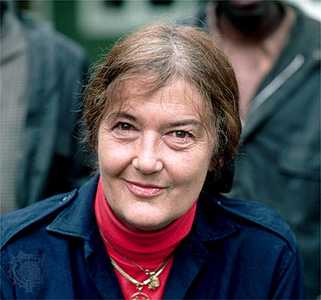 Dian Fossey established the Karisoke Research Foundation in 1967, alternating her time between her fieldwork there and obtaining a Ph.D. based on her research at Cambridge University. She earned her degree in 1976 and later accepted a visiting associate professorship at Cornell University. In 1983, her book, Gorillas in the Mist, was published and became a best seller. A film with the same name was also released in 1988 starring Sigourney Weaver as Fossey.
Death and Legacy
Considered the world's leading authority on the physiology and behavior of mountain gorillas, Dian Fossey fought hard to protect these "gentle giants" from environmental and human hazards. She saw these animals as dignified, highly social creatures with individual personalities and strong family relationships. Her active conservationist stand to save these animals from game wardens, zoo poachers, and government officials who wanted to convert gorilla habitats to farmland caused her to fight for the gorillas not only via the media, but also by destroying poachers' dogs and traps.
On December 26, 1985, Fossey was found hacked to death, presumably by poachers, in her Rwandan forest camp. No assailant has ever been found or prosecuted in her murder.

Her legacy lives on in the Dian Fossey Gorilla Fund International (http://gorillafund.org ) and in the Gorilla Doctors Program: http://gorilladoctors.org/about-mgvp/history.html
Biography Source: http://www.biography.com/people/dian-fossey-9299545
Excerpts from Wikipedia
Opposition to poaching
While poaching had been illegal in the national park of the Virunga Volcanoes in Rwanda since the 1920s, the law was rarely enforced by park conservators, who were often bribed by poachers and paid a salary less than Fossey's own African staff.[7] On three occasions, Fossey wrote that she witnessed the aftermath of the capture of infant gorillas at the behest of the park conservators for zoos; since gorillas will fight to the death to protect their young, the kidnappings would often result in up to 10 adult gorillas' deaths.[7] Through the Digit Fund, Fossey financed patrols to destroy poachers' traps in the Karisoke study area. In four months in 1979, the Fossey patrol consisting of four African staffers destroyed 987 poachers' traps in the research area's vicinity.[8] The official Rwandan national park guards, consisting of 24 staffers, did not eradicate any poachers' traps during the same period.[8] In the eastern portion of the park not patrolled by Fossey, poachers virtually eradicated all the park's elephants for ivory and killed more than a dozen gorillas.[8]
Dr. Fossey helped in the arrest of several poachers, some of whom served or are serving long prison sentences.
In 1978, Fossey attempted to prevent the export of two young gorillas, Coco and Pucker, from Rwanda to the zoo in Cologne, Germany. During the capture of the infants at the behest of the Cologne Zoo and Rwandan park conservator, 20 adult gorillas had been killed.[10] The infant gorillas were given to Fossey by the park conservator of the Virunga Volcanoes for treatment of injuries suffered during their capture and captivity. With considerable effort, she restored them to some approximation of health. Over Fossey's objections, the gorillas were shipped to Cologne, where they lived nine years in captivity, both dying in the same month.[7] She viewed the holding of animals in "prison" (zoos) for the entertainment of people as unethical.
While gorillas from fringe groups on the mountains that were not part of Fossey's study had often been found poached five to ten at a time, and had spurred Fossey to conduct her own anti-poaching patrols, Fossey's study groups had not been direct victims of poaching until Fossey's favored gorilla Digit was killed in 1978. Later that year, the silverback of Digit's Group 4, named for Fossey's Uncle Bert, was shot in the heart while trying to save his son, Kweli, from being seized by poachers cooperating with the Rwandan park conservator.[12] Kweli's mother, Macho, was also killed in the raid, but Kweli was not captured due to Uncle Bert's intervention; however, three-year-old Kweli died slowly and painfully of gangrene, from being brushed by a poacher's bullet.
According to Fossey's letters, ORTPN (the Rwandan national park system), the World Wildlife Fund, African Wildlife Foundation, Fauna Preservation Society, the Mountain Gorilla Project and some of her former students tried to wrest control of the Karisoke research center from her for the purpose of tourism, by portraying her as unstable. In her last two years, Fossey claims not to have lost any gorillas to poachers; however, the Mountain Gorilla Project, which was supposed to patrol the Mount Sabyinyo area, tried to cover up gorilla deaths caused by poaching and diseases transmitted through tourists. Nevertheless, these organizations received most of the public donations directed towards gorilla conservation.
The public often believed their money would go to Fossey, who was struggling to finance her anti-poaching and bushmeat hunting patrols, while organizations collecting in her name put it into tourism projects and as she put it "to pay the airfare of so-called conservationists who will never go on anti-poaching patrols in their life." Fossey described the differing two philosophies as her own "active conservation" or the international conservation groups' "theoretical conservation."
Opposition to tourism
Dian Fossey strongly opposed tourism, as gorillas are very susceptible to diseases by humans like the flu for which they have no immunity. Dian Fossey reported several cases in which gorillas died because of diseases spread by tourists. She also viewed tourism as an interference into their natural wild behaviour. Fossey also criticised tourist programs, often paid for by international conservation organisations, for interfering with both her research and the peace of the mountain gorillas' habitat.
Threat of Deforestation ~ Rangers Destroying a Charcoal Kiln in Virunga National Park.
Rangers are hard at work fighting the illegal charcoal trade and protecting Virunga's forest habitats. The illegal charcoal trade has decimated the natural habitats of many endangered wildlife in Congo, Uganda and Rwanda. This trade is also reported to finance the militia activities that have resulted in many attacks on ranger bases as well as patrols.
Park Rangers strike at the heart of the charcoal-making operations that are run by armed groups deep in the forests of Virunga National Park, Eastern DR Congo.
To find out more about the fight to protect the park, please go to www.gorillacd.org.